Comptr
oller Counts $5.82 billion in Unpaid Bills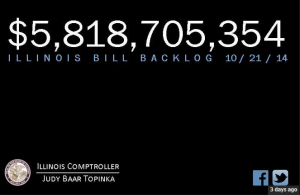 Illinois Comptroller Judy Baar Topinka announced the October 2014 count of unpaid state bills
increased $500 million compared to last month. The massive $5.82 billion figure includes $2.72 billion in bills actually presented to the Comptroller for payment.
An additional $2.2 billion was in the pipeline process throughout various State agencies as of Tuesday, September 30, and additional past-due spending reflected lagging vouchers in comparison with fall 2013. More information on Illinois' unpaid bills is available on the Comptroller's monthly spreadsheet of the State's cash-flow condition, "Monthly Money Matters".
Fuel Prices Down…Why? Thanks in Part to Fracking.

More than 2 million U.S. oil and gas wells outside of Illinois have utilized hydraulic-fracturing technology, leading to new nationwide production of more than 4 million barrels of oil per day. Fracking is responsible for allowing oil companies to unlock large reserves of oil and natural gas that were previously inaccessible. This technological advancement has led to a U.S. oil boom and has helped to lower gas prices in Illinois.
Meanwhile in Illinois, negotiations continue on new rules that the Illinois Department of Natural Resources will use to regulate future fracking in Illinois. The General Assembly's Joint Committee on Administrative Rules (JCAR) met on Tuesday, October 14 in Chicago and learned that progress on finalizing these rules is being made. The Committee will meet again on November 6 in Chicago, and its members express hope that the rules will be final by that date. JCAR is a twelve-member bipartisan legislative panel that oversees the administrative rulemaking activity of the State.
Enough with Corporate Handouts

As reported in Crain's Chicago Business by Joe Cahill

Amazon Inc. is scheduled to open a warehouse in Illinois that will employ 1,000 people by 2017. But Governor Quinn has not told taxpayers what Illinois will give Amazon in return.

It's not really a question of what, but how much.A spokesman for the Illinois Department of Commerce and Economic Opportunity acknowledges the state is likely to pick up a share of the costs of the new facility. "We expect that we will be negotiating a subsidy agreement with Amazon," the spokesman says.

Click here to read more.
Is more money the answer for education?
Speaking to the Illinois Principals Association last week, State Superintendent of Schools Chris Koch decried what he called the drastically underfunded status of Illinois public schools and said that an allocation of an additional $3 billion to $4 billion per year in State school aid to public school districts is needed to fully fund the education budget. The additional aid would be in addition to increased payments also due from taxpayers to the State-financed teacher pension system.
State Spending on Education has Grown 61%
Illinois Policy Institute (IPI) reports, other than in fiscal year 2009, when Illinois received more than $1 billion in K-12 federal stimulus funds, state funding for education is at an all time high. State funding, which totaled $9.4 billion in fiscal year 2013, has grown 61%. In addition, average funding per pupil is also at an all time high at $11,842.
As always, if you have any questions or comments about the topics discussed in this newsletter, or any other part of state government, please do not hesitate to contact my office at (815) 547-3436 or by email at sosnowski@ilhousegop.org.