ROCKFORD – Local residents interested in learning how to save money on their gas, electric and phone bills are invited to attend a free clinic sponsored jointly by State Rep. Joe Sosnowski (R-Rockford) and State Rep. John Cabello (R-Machesney Park) from 11:00 a.m. to 1:00 p.m., Sept. 17, at the Rockford Area Association of Realtors office.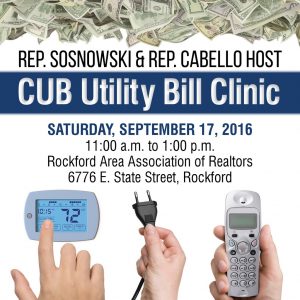 Attendees are encouraged to bring their gas, electric and phone bills for a free one-on-one consultation with experts from the Citizens Utility Board (CUB), who will give tips on how to reduce costs. At clinics across Illinois, CUB has shown consumers how to trim their bills by an average of more than $200 per year.
The utility bill clinic is free and open to the public:
Saturday, September 17, 2016
11:00 a.m. to 1:00 p.m.
Rockford Area Association of Realtors
6776 E. State Street
Rockford, IL 61108
"Helping local residents save money on their utility bills is one of the many ways my office is pleased to serve our community," Rep. Sosnowski said. "I encourage everyone to attend and learn how to apply simple tips to get more for less on every dollar you spend on gas, electric and phone service."
"CUB clinics are a terrific opportunity for local families to get a personalized one-on-one review of their utility bills and find out how they can reduce their monthly expenses," Rep. Cabello said. "My office is pleased to partner with Rep. Sosnowski and the Citizens Utility Board to provide this free service for Rockford-area residents."
For questions or to RSVP, please call Rep. Sosnowski's office at (815) 547-3436.
###