A Surreal Year for Illinois
As 2016 wraps up, the Merriam-Webster Dictionary announced their annual "word of the year." Merriam-Webster is able to do this by tracking how often a specific word's definition is searched online, and how often search spikes occur. For 2016, that word is "surreal." Other words that made the Merriam-Webster's "Top 10 for 2016," include "Bigly," "Deplorable," and "Feckless."
Thinking back on this year surreal perfectly describes the Illinois legislature. The staunch opposition from Speaker Madigan to support bipartisan reforms is impossible to rationalize or defend. This feckless nature of how he governs is downright deplorable. Illinois residents aren't just telling legislators they want a change in government through letters and phone calls anymore, they're telling legislators in droves with their feet by taking their talent and money to a state that can do better for them.
Illinois is the only state in the Midwest that saw a population decline for 2016. You'd think after a third consecutive year of losing millennials, families, skilled workers, and tax dollars to other states Springfield would be energized for reforms. Instead Illinoisans continue to be caught in a never ending cycle.
How is this cycle broken?
I believe in the adage, "Devote wholehearted effort without calculating who does or gains more." It's about a state government that works for
all
people.
The legislature is comprised of many talented individuals who want to reform Illinois's misguided spending habits, provide true financial relief to taxpayers, and ensure those in need of social services rightly receive it. To do this there must exist an understanding that all Illinoisans deserve to see reforms in state government that benefit them.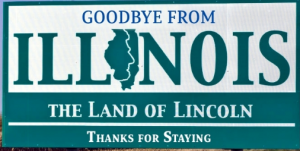 IL Population Shrunk by Most in 2016
By: Marwa Eltagouri, Chicago Tribune
December 20, 2016

For the third consecutive year, Illinois has lost more residents than any other state. The plunge is mainly a result of a large number of residents leaving the state in the past year–about 114,144 in all–which couldn't be offset by new residents and births, according to census data measuring population from July 2015 to July 2016. The number of residents leaving the state is the largest in recent history….

Illinois, however, had only the second-greatest decline rate in 2016, as even with the population drop it continues to be the fifth-most populous state. West Virginia had the greatest decline rate this year.

Illinois' population will continue to sharply decline in the coming years as more residents call it quits on the state they call home. The Tribune last year surveyed dozens of former residents who had fled within the past five years, and all offered their own list of reasons…Common reasons included high taxes, state budget, crime, unemployment, and weather troubles, to name a few.

To read the full article click here.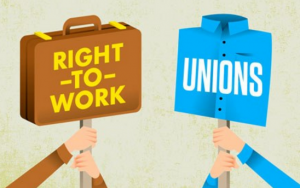 Illinois State Worker Fights for Freedom to Reject Union Membership
By: Scott Reeder, Illinois Review
December 19, 2016

Mark Janus is a David ready to take on a Goliath.

You've probably never heard of Mark. He's just an Ordinary Joe tucked away in a nondescript government building in Springfield. But soon his name may become well-known throughout the United States.

He doesn't believe any government worker should be forced to pay money to a union that they don't agree with. So, he is suing the American Federation of State County and Municipal Employees (AFSCME).

You see, Mark is representative by AFSCME against his will. In order to keep his job, he has to pay them a chunk of his paycheck.

It's not fair. But it's just the way it is.

Earlier this year, a California teacher named Rebecca Friedrichs made the same argument before the U.S. Supreme Court. I sat through the arguments. Based on the questions being asked it looked like the majority of the members of the high court agreed with her. And then Justice Antonin Scalia died. The court ended up deadlocked with a four-four vote and failed to issue an opinion. So whoever President Trump appoints to replace Scalia will likely cast the deciding vote.

To read the full article click here.
_______________________
As always, if you have any questions or comments about the topics discussed in this newsletter, or any other part of state government, please do not hesitate to contact my office at (815) 547-3436 or email me at sosnowski@ilhousegop.org.

Sincerely,

Joe Sosnowski
State Representative
69th District