SPRINGFIELD–State Representative Joe Sosnowski (R-Rockford) was sworn into office for a new term on Wednesday, joining all 118 members of the House of Representatives for the historic inauguration of the 100th General Assembly. Sosnowski has represented the 69th District since 2011, working to provide common sense reforms to Illinois.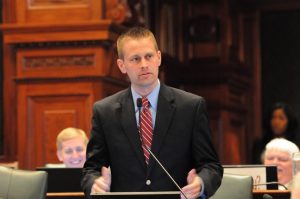 "We have a clear choice moving forward as we look to resolve the state budget impasse: maintain the status quo, raise taxes without reforms and force greater fiscal crisis; or go in a new direction and work together on changes that create jobs, strengthen schools and enact true property tax relief," Rep. Sosnowski said. "I have been very consistent in my position that we need to go in that new direction and achieve results for northern Illinois families. This is my first and most immediate priority for the new year."
Representative Sosnowski has also posted an online 2017 legislative survey for constituents to provide their feedback on a wide range of state issues. The survey can be accessed by clicking
HERE
.
Prior to joining the Illinois House of Representatives in 2011, Representative Sosnowski served as a member of the Rockford City council. He holds a State of Illinois Real Estate Broker's License and is currently the Director of Institutional Advancement at Rockford Christian Schools. In addition, he was a 2008 recipient of the Rockford Chamber of Commerce's "40 Under 40" Award, which recognizes young leaders from the Rockford region.
Representative Sosnowski is a member of Heartland Community Church and lives in Rockford with his wife, Roxanne, and their three children.
Representative Sosnowski's office is located at 305 Amphitheater Drive, Rockford 61107. Constituents with issues regarding state government, ideas for legislation or any comments question or concerns are welcome to contact his office at (815) 547-3436.