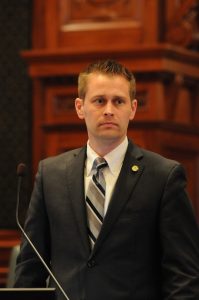 Rep. Joe Sosnowski
SPRINGFIELD–The Illinois House of Representatives voted to adopt House Resolution 46 today, a set of rules to govern the procedures of the Illinois House of Representatives for the next two years. Introduced and sponsored by Majority Leader Barbara Flynn Currie (D-Chicago), a top lieutenant of House Speaker Michael Madigan, the resolution was adopted by a vote of 63-53. Two Democrats voted in opposition with all 51 Republicans.
"If you are seeking fairness and democracy in government don't look at what the Springfield majority did as they adopted archaic rules that don't allow issues to come for a vote if only one member says no," said Representative Joe Sosnowski (R-Rockford).
Representative Sosnowski co-sponsored an alternative proposal, House Resolution 47, a bill to reform the House Rules in order to make the legislative process more open and transparent and decentralize the concentration of power in the Speaker of House. Sosnowski's bill, HR 47, was denied consideration or a vote despite having a total of 51 sponsors.
# # #