SPRINGFIELD– Governor Bruce Rauner delivered his annual State of the State Address to a joint session of the General Assembly in Springfield today, citing the challenges and opportunities facing Illinois as the state continues to grapple with a budget impasse that has now extended beyond 18 months.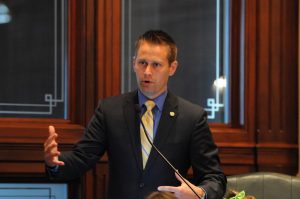 Rep. Joe Sosnowski
"The Governor again highlighted his willingness to compromise to help make Illinois an economic engine in the Midwest," said Representative Joe Sosnowski (R-Rockford). "The State Senate in a bipartisan effort is working toward compromise, and while we can agree or disagree with the various proposals coming out of those negotiations, the House leadership led by the Speaker who has been in office for 45 years, is showing no willingness to follow their lead and move Illinois forward. It's a shame."
The Governor is scheduled to submit his budget plan to the General Assembly during his forthcoming Budget Address at the Capitol on February 15, 2017.
# # #