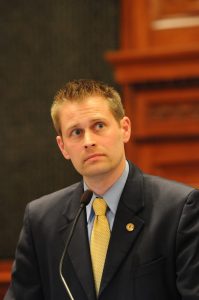 Rep. Joe Sosnowski
ROCKFORD
–
State Representative Joe Sosnowski (R-Rockford) has been re-appointed to serve on the Legislative Audit Commission, the panel responsible for the oversight of the stewardship of public funds and monitoring action to correct weaknesses disclosed by the audits of state agencies.
The Commission's work has taken on particular importance during the ongoing federal and state investigations of Illinois Auditor General Frank Mautino into his alleged campaign spending irregularities, which continues to cast public doubt on the integrity of the Office of Auditor General. The Legislative Audit Commission reviews all audits conducted by the Auditor General.
The Legislative Audit Commission is comprised of 12 legislators appointed by the General Assembly leadership with an equal number of Democrats and Republicans from both the Illinois House of Representatives and the Illinois Senate.
"Ensuring the integrity of how public funds are spent is one of the most basic responsibilities of state government," Rep. Sosnowski said. "I am honored to accept this appointment to serve as a taxpayer watchdog on the Legislative Audit Commission."
Primary responsibilities of the Legislative Audit Commission are to:
Conduct public hearings on all major audits of State agencies to review problems, assess agency stewardship, and secure remedial action.
Initiate and review management and program audits and investigations.
Make recommendations to the General Assembly and agency management for corrective legislation and other measures to remedy weaknesses disclosed through audits or at Commission hearings.
Monitor agency progress in implementing corrective action.
For more information on the Legislative Audit Commission and to view their reports, please click
HERE
.
# # #