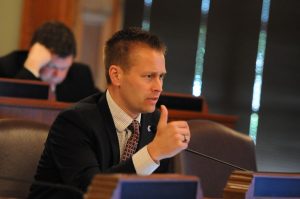 Rep. Joe Sosnowski
SPRINGFIELD
–
With Illinois' unfunded pension liability reaching an estimated $129.8 billion in November 2016 according to a report by the Commission on Government Forecasting and Accountability (COGFA), State Rep. Joe Sosnowski (R-Rockford) has introduced a package of six new bills in the Illinois House of Representatives to make common-sense, constitutional reforms to Illinois' pension systems.
"Inaction is not an option," Rep. Sosnowski said. "Public employees, current retirees and taxpayers alike deserve a pension system that is in a stable financial condition, reliable for those who depend upon it now and sustainable for those are planning for retirement in the future. I have introduced this package as an opportunity to renew good-faith negotiations on ways Democrats and Republicans can work together to achieve pension reform that is constitutional, cost-saving, and constructive."
House Bill 2760 would give current employees greater choice and control over their own retirement savings by creating an optional self-managed plan (SMP) for all state employees modeled from the SMP that was enacted for the State University Retirement System (SURS). This legislation would also eliminate cost-of-living adjustments (COLAs) for state government legislative and executive elected officials and qualifying appointees.
House Bill 2761 and House Bill 2768 would remove a provision in state law that allows for overtime hours worked to be included in determining the pensionable salary for employees in all five state pension systems.
House Bill 2759 would eliminate a form of "double dipping". Specifically, if an individual who is a member of a pension or retirement system is receiving their annuity and then obtains a full-time position working for another pension or retirement system, that individual's annuity would be suspended while working the full time job. No individual should be able to draw a public pension while working a full-time government job at the same time.
House Joint Resolution Constitutional Amendment 18 would, if passed by the General Assembly, place a constitutional amendment on the next General Election ballot allowing voters to repeal the pension protection clause in the Illinois Constitution. The principle behind this initiative is simple: we all contribute to the pension system as taxpayers, and therefore deserve the opportunity to redefine its structure as necessary.
Lastly, House Bill 2757 would close the loophole that allows employees of local governments and school districts to boost their pensions by having their unused sick and vacation time included in the final compensation used to determine their pension, costing taxpayers tens of thousands more per year in many cases for individual employees.
# # #