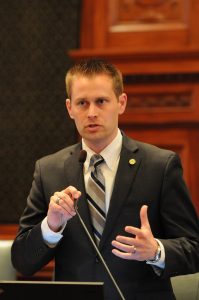 SPRINGFIELD
–
Members of the American Federation of State, County and Municipal Employees (AFSCME) Council 31 voted to give their union bargaining committee the authority to call a strike on Thursday, threatening the interruption of critical taxpayer-funded services across Illinois as the union remains at an impasse in contract negotiations with Governor Bruce Rauner. Since taking office in 2015, the Rauner Administration has successfully negotiated new contracts with the state's 20 other unions, agreements that balance the needs of Illinois' diverse and talented workforce with respect for taxpayers.
State Representative Joe Sosnowski (R-Rockford) reacted to the vote by AFSCME members today to authorize a strike:
"The Governor has negotiated in good faith with AFSCME, the only union which has refused to compromise on terms for a new contract in the past two years. As the representative of the taxpayers at the negotiating table, the Governor has consistently offered a fair, common-sense proposal that includes merit pay, allowing volunteers to lend their time and talents to assist government agencies, and stating that overtime pay can be earned for any time worked beyond 40 hours per week. Caving in to AFSCME's extreme demands and refusal to compromise would result in higher taxes on all working families in Illinois; an outcome we should not accept. Instead of striking and jeopardizing the services Illinois families pay for and rely upon, I encourage AFSCME members to pressure their leaders to negotiate with the Governor in good faith and agree to a fair contract as soon as possible."

The vote to authorize AFSCME's bargaining committee to call a strike does not necessarily mean that there will be a strike. The union bargaining committee is expected to meet in the coming days to determine a course of action, and pending litigation could also play a role.
# # #