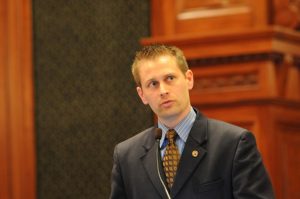 Rep. Joe Sosnowski
SPRINGFIELD
–
The Illinois House of Representatives unanimously approved legislation today,
House Bill 791
, to block local governments from enacting any ordinance prohibiting the use of autonomous vehicles on its roadways. "Autonomous vehicle" means any vehicle equipped with technology that has been integrated capable of driving the vehicle without the active control or monitoring of a human operator. State Representative Joe Sosnowski (R-Rockford) reacted to the bipartisan consensus that led to the unanimous passage of the bill:
"In the interest of public safety, it is critical that we avoid creating a patchwork of laws throughout the state with regard to autonomous vehicles," Rep. Sosnowski said. "If some communities allowed the use of self-driving cars while others banned it, an unfeasible situation would exist endangering public safety and creating a legal and insurance nightmare. It is more appropriate that we take the necessary time to assess this innovative technology thoughtfully and come to a consensus on the best way to move forward as a state."
Federal regulators announced their first safety checklist ever for semiautonomous and driverless cars in 2016. In the guidelines, the United States Department of Transportation urged automakers and tech companies to prove that their semiautonomous and autonomous vehicles could meet a 15-point list of safety expectations before the autos where on the road. A few of those safety expectations are listed below:
SYSTEM SAFETY The cars must be engineered to respond safely to software malfunctions, near crashes, loss of traction and other risks. Carmakers should get outside validation of their safety systems and prove their cars can operate safely even when technology problems are encountered.
DIGITAL SECURITY The vehicles should be engineered with safeguards to prevent online attacks. Automakers should record all programming decisions and testing around security and share that information with others in the industry.
HUMAN-MACHINE INTERFACE Carmakers must show how their vehicles can safely switch between autopilot and human control. Human drivers should be able to easily find basic information about issues such as when automated driving is not available. Automakers should also consider ways to communicate to pedestrians and other cars when the car is in autopilot mode. Fully autonomous vehicle controls should be designed for people with disabilities.