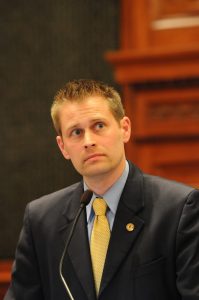 Rep. Joe Sosnowski
By Joe Sosnowski
State Representative, 69th District
In business, job creators and entrepreneurs compete to provide the best product or service at a good value for consumers. Unfortunately, when it comes to state government, meaningful efforts to lower costs and increase value to taxpayers are too often met with viral opposition. Let me give you a current example:
Illinois' prison inmate population has declined over 9 percent since January 2015; yet that has not stopped the Illinois General Assembly from advancing legislation that would strip the governor's ability to reduce staffing levels at state prisons. Senate Bill 19, currently pending in the Illinois House of Representatives, would mandate a headcount for personnel at the Department of Corrections (DOC) and wipe out $8 million in annual savings to taxpayers. This action essentially allows the union to manage the employees; this is an inherent conflict of interest.
This legislation was hastily filed after the Governor announced most corrections nurses would be transitioned to a private contractor already working for the state to streamline medical services; a move that would save the state $8 million annually mostly through a reduction in benefit costs.
The contractor, Wexford Health Services, has done work for the state since 1992 and is exceedingly reputable, yet, public sector union bosses feel threatened by anyone moving in on their turf that can provide taxpayers quality service at a lower cost.
Under Senate Bill 19, headcount will have to stay at what is was on January 1, 2016; preventing the state from managing its workforce and prohibiting subcontracting if doing so would decrease the union personnel headcount. The bill would prevent DOC from proceeding with this cost effective transition which means even though there are fewer inmates to be served, the state would not be permitted to reduce staffing levels at prisons — ever. This is absurd.
We fought this same battle last year. The same bill was introduced (House Bill 5104), which removes any ability of the state to manage its workforce needs. That proposal, HB 5104, was passed by both the House and Senate before being vetoed by the Governor. Advocates of the status quo are back at it again.
I urge the Governor to veto Senate Bill 19 and allow the state, not union bosses, to manage its workforce with common-sense policies driven by maximizing value to taxpayers and making services more efficient. That's the standard that should always be followed.