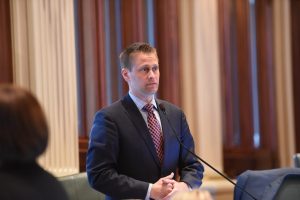 Rep. Joe Sosnowski
SPRINGFIELD– State Representative Joe Sosnowski (R-Rockford) expressed support today for Governor Bruce Rauner's intention to veto the controversial House Bill 40, which was approved by the Illinois House of Representatives on Tuesday by a vote of 62-55. The legislation would remove the existing ban on taxpayer-funded abortion with no restrictions through the state's Medicaid program.
"Proponents of
House Bill 40
claim it improves access to reproductive health care for women, but the facts tell a different story," Sosnowski said. "The legislation actually diminishes protections for pregnant women by removing basic health care standards, preventing women from being provided basic information and denying all rights to unborn children. We need to reevaluate what it means to protect women and children, because it is clear House Bill 40 is not the answer."
The Illinois Department of Healthcare and Family Services has stated House Bill 40 will have a direct impact of $1.8 million in costs to taxpayers,
with
other additional costs that are not quantifiable.
Specifically:
·
House Bill 40 removes a provision in state law excluding abortions from the list of services provided under the State's medical assistance program
·
House Bill 40 removes language from state law providing for the adoption of rules to prohibit a physician from providing medical assistance to anyone eligible under the Code if the physician has been found guilty of performing an abortion procedure in a willful and wanton manner upon a woman who was not pregnant at the time such abortion procedure was performed
·
House Bill 40 removes a provision from state law requiring that a written statement including the required opinion of a physician shall accompany any claim for reimbursement for abortions
·
House Bill 40 removes other existing provisions from state law concerning abortion procedures. It amends the Problem Pregnancy Health Services and Care Act; removing language prohibiting the Department of Human Services from making grants to nonprofit agencies and organizations that use such grants to refer or counsel for, or perform, abortions.
House Bill 40 now advances to the State Senate.
# # #