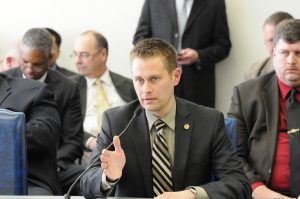 Rep. Joe Sosnowski
SPRINGFIELD– State Representative Joe Sosnowski (R-Rockford) issued the following statement today after the Illinois House of Representatives approved SB 81, legislation to raise the Illinois minimum wage from the current $8.25 per hour to $15 per hour:
"The Springfield majority has approved nearly $ 2 Billion in new costs to taxpayers so far this spring. The minimum wage increase costs the state more money and they have no way to pay for our current debt, let alone new costs. It is a fantasy land budget process where math doesn't matter."
Prominent examples of new spending approved by the Illinois House of Representatives this spring include:
Tuition Grants to College Students (HB 1316) – $429 mil
Raise Minimum Wage to $15 per hour (SB 81) – $1.5 billion (but could be greater)
Waiving Fee for Expungement of Arrest Records (SB 1781) – $2 mil
Pay Raise for Health Care Facility Workers (SB 1353) – $6.2 mil
Costs to Start Licensing Student Loan Servicers (SB 1351) – $300,000
Taxpayer funded abortion under Medicaid (HB 40) – Estimates suggest cost could be up to $60 million per year
The State of Illinois is rapidly approaching two full years without a budget. Democrats hold a 67-51 seat majority in the Illinois House of Representatives and a 37-22 seat supermajority in the Illinois Senate; yet have thus far failed to pass a state budget. According to the State Comptroller, Illinois' bill backlog exceeds a record-high $14.4 Billion as of May 26.
# # #