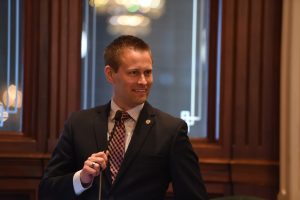 BELVIDERE
–
Local residents with questions or concerns on issues impacting the State of Illinois are invited to attend "Coffee Talk with Joe" hosted by State Representative Joe Sosnowski (R-Rockford) at Ned's Restaurant in Belvidere on Friday, July 7. The event is free and open to the public. Coffee will be provided courtesy of Representative Sosnowski:
Coffee Talk With Joe
Friday, July 7, 2017
8:00 am to 9:00 am
Ned's Restaurant
2132 Business Route 20
Belvidere, IL 61008
"Community coffees are a valuable opportunity for me to listen to the concerns of local residents firsthand," Representative Sosnowski said. "We are at a critical juncture in state history in terms of the budget, state spending, taxes, and the investments we make in education, public safety and many other areas. I encourage everyone who has questions, comments or concerns to come make their voice heard at my coffee talk in Belvidere."
Constituents who are unable to attend the coffee talk but still wish to provide feedback to Representative Sosnowski can do so online by visiting
www.joesosnowski.org
and clicking "Contact" on the homepage menu, or by calling the District Office in Rockford at (815) 547-3436.
###