State Representative Joe Sosnowski (R-Rockford) is sponsoring new legislation to repeal the costly Cook County "pop tax". Rep. Sosnowski this week joined a number of his House Republican colleagues calling for prompt consideration of House Bill 4082 which would eliminate the new tax on sugary beverages that will not only cost families more at the grocery store, but could cost Illinois jobs and more than a billion dollars in economic activity.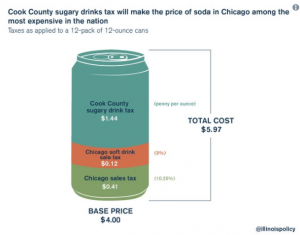 The tax, which went into effect on August 2, imposes a new one cent per ounce tax on sweetened beverages sold in Chicago and Cook County. It will result in Cook County consumers having to pay on average 67 percent more for a 2-liter of pop, 43 percent more for a gallon of juice drink or sweetened iced tea, and 29 percent more for a 12-pack.
"Families are still reeling from the 32% state income tax increase forced on them this summer and
now they're hit with another government cash grab that will do more harm than good. This 'pop tax' needs to be repealed," said Rep. Sosnowski.
The City of Philadelphia recently enacted a similar, 1.5-cent-an-ounce tax on sweetened beverages and found that following implementation beverage sales fell by as much as 50 percent and more than 400 jobs were lost. Rep. Sosnowski noted that an economic analysis indicates that the "pop tax" impact on Cook County could be even worse, potentially resulting in a loss of 6,100 jobs, $321 million in lost wages and $1.3 billion in lost economic activity. In addition, the U.S. Department of Agriculture recently notified Cook County that portions of the tax were illegal and that the state could stand to lose more than $86 million in federal funding if the problems are not resolved.
House Bill 4082 would repeal the new Cook County 'pop tax" and prevent any home rule county from imposing a tax on sweetened beverages based on volume sold.
"We all know this type of tax doesn't work. It will never raise the amount of revenue projected, but it will most certainly hurt Illinois families and businesses, and that's why nearly 90% of Cook County residents oppose it," Rep. Sosnowski said.
Rep. Sosnowski wants to know what you think about the Cook County "pop tax". Click "Support or Oppose the Pop Tax" in the right hand margin of this website to weigh-in.