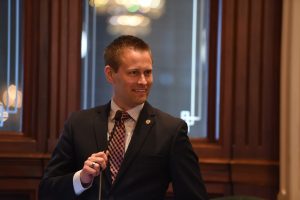 State Rep. Joe Sosnowski
SPRINGFIELD – A new bipartisan law co-sponsored by State Representative Joe Sosnowski (R-Rockford) will enable local school districts to keep more of the federal funds designated for them by the U.S. Department of Education by reversing a provision in state law that, until now, allowed the State to withhold a significant portion of those funds to cover teacher retirement costs. House Bill 656, recently signed into law as Public Act 100-0340, ensures that local school districts across Illinois, including Rockford Public Schools District 205, will get to keep federal funds provided to them
under Title I and Title II
for the normal costs of the employer's share of a teacher's retirement contribution
. House Bill 656 is estimated to save Rockford Public Schools District 205 an estimated $1.69 million.
"This new law is a victory for local school children, teachers and parents in Rockford and in every part of our state
," Rep. Sosnowski said. "Local school districts will now receive the federal funds owed to them for normal teacher pension costs, which the State of Illinois has been unfairly withholding from them to pay for the state's own mistakes of the distant and recent past."
Prior to the signing of House Bill 656, the entire pension cost (normal cost and unfunded liability) was withheld from school districts that pay employees with federal funds and those federal funds were, instead, transmitted to the Teachers Retirement System (TRS). In 2013, the TRS Board changed their policy with regards to pension costs for federally paid employees. Specifically, the Board voted to tie the federal employee pension cost to the normal cost, as opposed to the entire pension cost – normal cost plus unfunded liability. This change by the Board would have increased the state's contribution in FY15. Subsequently, the General Assembly specified in the FY15 BIMP bill that the federal contribution for federal employees was to include both the normal cost and the unfunded liability. Several school districts had budgeted in the proposed TRS savings, and were left with large budget gaps to fill.
House Bill 656 was introduced by State Rep. Jehan Gordon-Booth (D-Peoria) with both Rep. Sosnowski and Rep. Litesa Wallace (R-Rockford) serving as Chief Co-Sponsors.