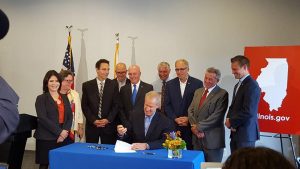 Governor Rauner signs Rep. Sosnowski's HB 2527 into law in Rockford on Friday.
ROCKFORD– Governor Rauner signed legislation into law on Friday afternoon in a public ceremony at the Goodwill Industries of Northern Illinois headquarters, sponsored by State Representative Joe Sosnowski (R-Rockford) to help the more than 40,000 adults in Winnebago and Boone Counties without a high school diploma attain their education and advance toward career success.
Representative Sosnowski's legislation, House Bill 2527, allows a nonprofit agency, in partnership with the Illinois State Board of Education, to establish a school for adult learners that would issue high school diplomas and vocational training certifications to prepare students with career skills upon graduation.
Goodwill Industries administers the schools through their Excel Center program. First established in Indiana in 2010, the program has since grown to include 12 schools across Indiana with additional ones in Memphis, Tennessee, Austin, Texas and Washington, D.C. Representative Sosnowski's bill paves the way for an Excel Center to be located in Rockford.
"With the signing of this new law, adult students of all ages will have the opportunity to obtain a high school degree and climb the ladder of success," Representative Sosnowski said. "This law paves the way for the creation of excel centers which will open doors to personal growth and career advancement for adult learners through the success of the program established by our friends at Goodwill of Northern Illinois. Students will be able to not only receive their high school diploma, but also the potential obtain a Career and Technical Education certificate."

House Bill 2527 was approved by the Illinois House of Representatives by a vote of 114-1 on April 25 prior to advancing to the State Senate, where it passed by a unanimous vote of 54-0 on May 31. For questions or more information, please contact Representative Sosnowski's District Office in Rockford at (815) 547-3436.