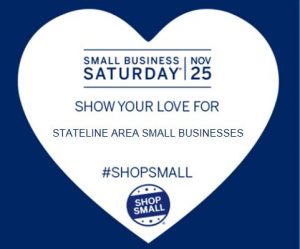 ROCKFORD– State Representative Joe Sosnowski (R-Rockford) is encouraging constituents in Boone and Winnebago Counties to shop local this Saturday, November 25 in support of small and family-owned businesses on Small Business Saturday, which has grown into a national tradition since its inception in 2010.
"With this upcoming weekend being the busiest shopping weekend of the year, this is a terrific opportunity to rediscover the abundance of goods and services available here in our own backyard," Representative Sosnowski said. "By shopping local this Saturday, you are helping our community's best and brightest entrepreneurs continue to provide jobs for thousands of Stateline area families."
There are 1.2 Million small businesses in Illinois, employing 2.4 Million people across the state. Small businesses account for 99.6% of all Illinois businesses, employing 46% of the state's total workforce. Construction, real estate and arts, entertainment & recreation are the three largest small business employers in Illinois. Small business created 43,836 net jobs in Illinois in 2014.
For a directory of local businesses in your community, please click on either of the following links:
Representative Sosnowski serves the 69th District, which includes portions of Rockford, Belvidere, Roscoe, Rockton, South Beloit, Cherry Valley, Machesney Park, Poplar Grove, Garden Prairie, Capron, New Milford, Shirland and Timberlane.
# # #