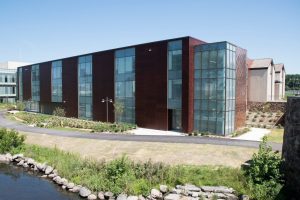 ROCKFORD
–
State Representative Joe Sosnowski, R-Rockford, announced today that the State of Illinois has approved the release of $11 Million in grant funding owed to reimburse Rock Valley College for the renovation and expansion of the Classroom Building I at the Mulford Road campus. Work on the project began in May 2014 but stalled when the State froze capital spending in July 2015.
"I am very excited about what this grant funding means for the continued growth of Rock Valley College as they train the workforce that is the backbone of our region's economy," Representative Sosnowski said. "Rock Valley College is an integral leader in preparing a new generation of students and young professionals for career success; making our community a great place to live, work and raise a family."
"We are thankful to Representative Sosnowski, the state legislative delegation, the Governor's office, and the Illinois Community College Board for their help in getting these funds released to reimburse the College for the Classroom Building I project that was recently completed to better serve our students and our community," said Dr. Doug Jensen, President of Rock Valley College.
The grant funding for Rock Valley College comes from the state's Capital Development Board. For questions or more information, please call Representative Sosnowski's District Office at (815) 547-3436.
# # #