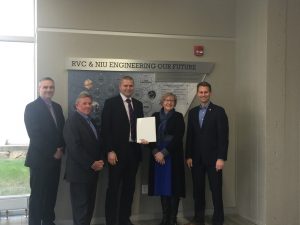 State Rep. Joe Sosnowski (right) joins representatives from Enbridge Energy at Rock Valley College on Monday presenting their scholarship donation to the Rock Valley College Foundation.
ROCKFORD– State Representative Joe Sosnowski, R-Rockford, thanked Enbridge Energy Company, Inc. at a check presentation ceremony held at Rock Valley College on Monday where representatives from Enbridge announced their donation of five $1,000 scholarships to the Rock Valley College Foundation for students in Boone County. First established in 2015, the Enbridge Energy Company Pipeline Industry Awareness Scholarship is open to engineering students, as well as students in vocational and technical programs such as welding, mechanical technology or electrical technology.
"In making this investment, Enbridge continues to demonstrate their commitment to helping provide opportunities for students in Boone County to earn their degree and become the next generation of leaders in one of our economy's fastest-growing and most critical industries," Representative Sosnowski said. "It is a privilege to work with the leadership and staff at Enbridge to strengthen and provide educational opportunities for students at Rock Valley College."
Also on Monday, Enbridge announced a $2,000 donation to the Boone County Council on Aging (BCCA) to provide transportation dispatch software. The BCCA provides a wide variety of services and programs for older adults in Boone County including public transportation, medical car escort, nutrition programs, outreach, in-home care, a computer lab, information and assistance, education, recreation and volunteer opportunities.
Enbridge transports over 2 million barrels per day (over 84 million gallons) of essential North American petroleum so it can be refined into products American families rely on from asphalt for roads to jet fuel and gasoline for our vehicles as well as feedstock for fertilizer, plastics, cosmetics, poly-fibers and other petro-chemical products. Enbridge strives to be a good neighbor through its Safe Community Program, Community Investments and the active involvement of employees in those organizations serving local communities, well-being and environment.
Please call Representative Sosnowski's District Office at (815) 547-3436 with any questions.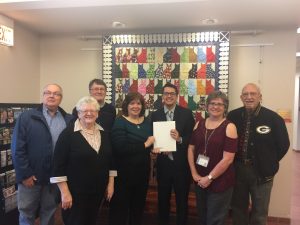 Enbridge Energy presents their donation of $2,000 to the Boone County Council on Aging in Belvidere on Monday.
# # #