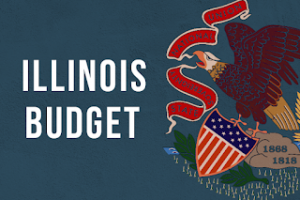 The Illinois General Assembly approved a state budget for Fiscal Year 2019, which the Governor signed into law on June 4. While Illinois averted another unnecessary crisis by passing a bipartisan full-year state budget on time, the budget agreement falls short by ignoring the long overdue reforms that are needed to improve Illinois' long-term fiscal health and generate economic growth.
Specifically, Illinois needs comprehensive and constitutional pension reform, property tax relief and common-sense workers compensation reform in order to ignite private sector job growth in the Rockford region and across every major industry in our state. Until we act on these reforms, we are only treating the symptoms and not the causes of Illinois' dire and persistent fiscal challenges.
With the new budget scheduled to take effect on July 1, let's take a look at some of the highlights:
No

tax increase

Cuts more than $1 billion in spending from the auto-pilot budget that would have resulted from no changes to current law.

Funds the MAP Grant program and accounts for a new 4-year MAP Grant commitment that will give confidence and predictability to students choosing an Illinois college or university.

Recognizes that Illinois struggles to keep our best and brightest high school graduates in Illinois to attend community colleges and state universities by creating a new, merit-based scholarship program called AIM HIGH; funded by $25 million from the state and a matching $25 million from universities to help retain Illinois students.

Funds local infrastructure projects to repair Illinois' crumbling roads and bridges; significantly reducing future costs that would result from delaying maintenance and repairs.
Here is a pie chart that illustrates how the new state budget is divided up by the various spending categories: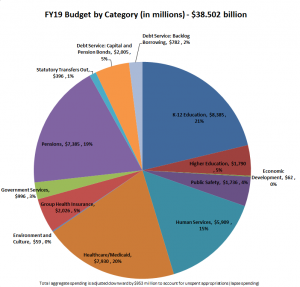 While the new budget does not contain everything Illinois needs to set ourselves back on a path of long-term fiscal stability, growth and opportunity; it is a step in the right direction. Getting a state budget passed on time – one that lives within its means and contains no tax increases – is good for local families here in Boone and Winnebago Counties and all across Illinois.
As always, if you have any questions or comments about the topics discussed in this newsletter, or any other part of state government, please do not hesitate to contact my office at (815) 547-3436 or email me at sosnowski@ilhousegop.org.
Sincerely,
Joe Sosnowski
State Representative
69th District